In order to make the most of your sea bathing in complete safety, we offer you a number of tips in this article. You will discover the particular risks involved in swimming with children and the importance of knowing first aid.
Safety tips: general points to remember
Swimming in the sea is a very different experience from swimming in a pool. Water temperatures are lower and deprive the body of some of its energy and the danger of misjudging one's own abilities is sometimes catastrophic.
Reminders :
Swim only in supervised bathing areas.
Read the signs related to bathing. They give you detailed information about the daily dangers of swimming in the sea.
Don't hesitate to ask lifeguards and lifeguards questions about the specific dangers in the bathing area.
Observe the bathing bans.
If you have spent time in the sun, get into the water slowly so that your body gets used to the water temperature.
Even if it has been very hot for several days, only the surface of the water has a warm temperature. Deeper water is colder.
Diving without getting wet first can lead to hypothermia or fatal cramps.
Never swim where boats and jetskis travel.
Do not enter the water immediately after eating. Do not drink alcohol if you plan to swim later.
In case of thunderstorm, leave the beach immediately.
Dangers
Currents are one of the greatest dangers facing swimmers at sea. The wind sometimes causes changes in the direction and strength of the currents. If you get caught in a current, stay calm and always swim diagonally to the current. This will make it easier to swim back to shore. Do not swim against the current, even if the distance seems shorter.
The depth of the water can vary due to the sandbanks. If there is no firm ground, a sudden cramp can be life-threatening.
The wind can cause a heavy swell within minutes and become a threat even to experienced swimmers.
Swimming in the sea requires much more strength and body control than in a swimming pool. Therefore, always respect the safety flags. Windsocks also give you valuable indications for your safety by showing you when the wind is blowing from the shore towards the open sea, the risk of drifting out to sea is particularly high (especially on an inflatable mattress).
Understanding beach flags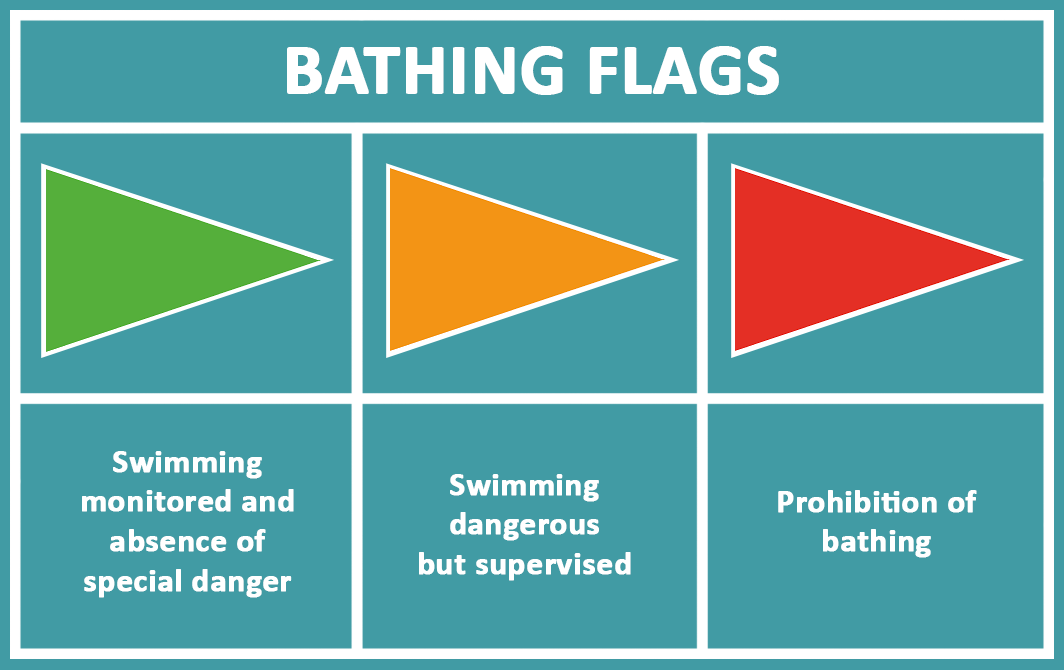 Swimmers on their way to the beach can be constantly informed about the dangers of swimming thanks to the first aid posts which use a standardised flag system.
Red-yellow flag: these two superimposed flags delimit the bathing area supervised by a lifeguard. Outside this zone, it is forbidden to swim.
Green flag: the bathing area is supervised and does not represent any particular danger.
Yellow flag: Attention! Listen carefully to the announcements made over loudspeakers and follow the information about the bathing supervision. Only experienced swimmers should venture into the water.
Red flag: Swimming and swimming are strictly forbidden.
Black and white chequered flag: often used in pairs, they delimit the area dedicated to water sports equipment, swimming is prohibited here.
Blue flag: it is a little different as it is a "quality label" for safe and environmentally friendly beaches.
Sea urchins, jellyfish & Co.
Sea urchins, these small stinging balls live on almost every coast. Their brittle spines come off easily and can cause injuries. You can easily protect yourself with bathing shoes, which will also be very effective against debris and other sharp objects.
Although jellyfish are not deadly in Europe, they can still cause painful burns. It is recommended that you do not go swimming if you see jellyfish stranded on the beach. Take these swimming bans seriously.
Tips for child safety when swimming
You should never leave your children unattended when they are bathing, even if the bathing area is supervised by a professional, active parental vigilance remains mandatory.
Don't rely solely on lifeguards, especially on crowded beaches where emergencies may go undetected immediately.
Do not rely on older siblings who are not trained supervisors and may be distracted.
Explain to your child what is allowed and what is not allowed, discuss on a regular basis what is allowed and what is not.